Have your ever broken or cracked your Android phone screen and failed to find a way to get data off the device? Don't worry! This page introduces you an easy and efficent Android broken screen data recovery solution – recover data from Android phone with broken screen from AutoPlay and shows you how to recover files using third-party Android data recovery software in some other data loss cases. Now you can learn the two Android data recovery solutions to effectively access and retrieve your photos, videos, contacts, SMS and other files.
Broken Samsung Galaxy S4 screen – how to retrieve data?
Last night, my Samsung Galaxy S4 screen is broken after felling out of my jeans pocket. The phone still boots up but it doesn't display anything. I have many precious family pictures and video files stored on the phone. I need to copy off them from the device. Is there any way that I can use?
Broken screen is one of the reasons for Android data loss. At most times, broken screen of Android will lose its touch functionality and becomes unresponsive. The screen shows blank and hence the data saved on its internal memory cannot be accessed by any means. When you encountered such a situation, how can you get data off Android device with smashed screen? Here we offers you two solutions.
Perform Android broken screen data recovery via AutoPlay
1. Connect your Android cracked or broken screen phone to your PC using a micro USB cable.
2. You can see an AutoPlay popup on your PC once your phone is successfully connected and recognized by the computer. Click on the Open folder to view files option.
3. Copy and paste the files and folders that you want to recover from your phone's internal memory to your PC.
Finish the above steps, you can successfully recover and transfer your data from Android phone with broken screen to your PC. And then you can disconnect your phone and get it repaired. Your data will be safe on your PC.
Recover data from Android phone using EaseUS Android data recovery software
Except for broken screen, there are many other reasons like accidental deletion, formatting, virus attack, etc can cause data loss issues on  Android devices. When you happened to face such a situation and could not recover data from Android phone via AutoPlay, please don't worry! You have the second choice – try EaseUS Android data recovery software to retrieve your valuable data. The program allows you to recover lost files on most popular Android phones from Samsung, LG, HTC, Huawei, Sony, ZTE, etc in all data loss cases. Here is the detailed guide.
Step 1. Connect your Android phone to computer
Launch EaseUS Android data recovery software and connect your Android phonne to the computer with USB cable. Then click "Start" button to make the software recognize and connect your device.
NOTE: As the software can only access the rooted Android device, you need to make sure that your phone has been rooted before data recovery.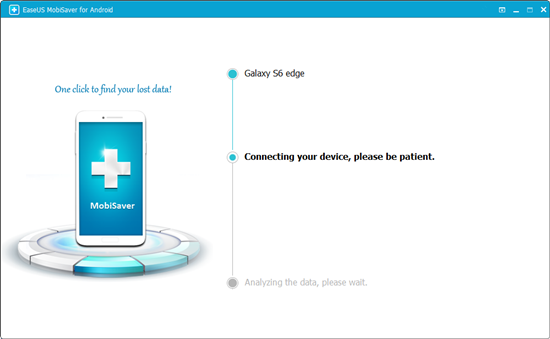 Step 2. Scan your Android phone to find the lost files
After connecting your Android phone, the software will quickly scan the device to find all the existing and lost data. You can easily find the lost files you want by choosing the correct file types.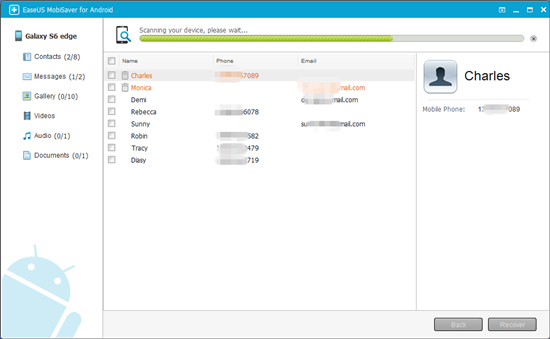 Step 3. Preview and recover data from Android phone
Preview all the recoverable files one by one and then you can select out those you want quickly. "Only display deleted items"option to list the deleted files only. Finally, you can click "Recover" button to get the selected files back once.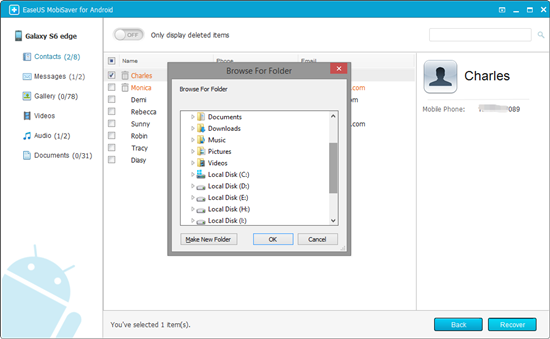 July 29, 2017
Categories: